AGM 2020 DOCUMENTS
Due to the number of apologies already received, it is considered unlikely that a quorum of 30 members will be achievable and the AGM will NOT be held this Wednesday 18th.
Further information will be notified to members when available.
Ann Stephenson
Hon Sec
Inter Club Working Test
SOUTHERN INTER CLUB GUNDOG TEAM MATCH – 2ND JULY 2017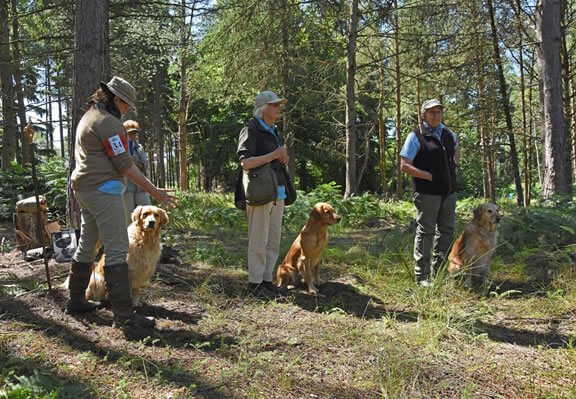 Photo by Hilly Hoar
Southern U.K. Inter club Gundog Team Match
Held on Sunday 2nd July 2017
At Windsor Great Park by Gracious invitation of H.M. the Queen
And hosted by Arun and Downland Gundog Society.
The SGRS team were:
ND/NH. Irene Bird with Tarinomagh Atar
Novice. Jean Baveystock with Polihale Bucks Fizz at Baveybuilt
Open.    Toni Sanders with Holway Pippa of Tarinomagh
The day was very hot, little breeze with strong sunshine so the scent was poor.
Six very interesting tests had been set up for us.
Our hosts gave us a magnificent packed lunch each.
We started under Roger Wade with 3 marks in a young fir plantation . The furthest one for the Open dog fell just over the brow of the hill. Pippa earned a 20.
Colin Pelham judged  a blind down a track for the N/H, a seen to the right for the Novice and a difficult blind past where the N/H dummy had been for the Open. Pippa made it look very easy too.
We went onto the water judged by Mary-Jane Opie.  The N/H had a seen in the water while the Novice dog had an unseen almost in the same place. Open blind dummy was at an angle across the water. The three Goldies really enjoyed that one!  Soaking the Judge with energetic shaking!
The Walkup Test judged by Helena Sully was in a large field of very difficult dry cover and of course poor scent. Pippa again did well.
We then made our way thankfully back into the shady woods for a pickup exercise judged by Kieran Smith. We had to nominate the dummy to be picked by each dog. It was quite difficult to keep your dog in sight.
Our final test was under John Stubbs.  This proved the hardest, not just for our team!
Three blind dummies were placed in a grassy area with three distinctive trees & shots fired. What we couldn't see was a track directly in front and the dogs had to cross this into the grass.
Irene went first, with a 20!  Fizz and Pippa didn't do so well!
We finished the day with tea & cakes. It was certainly a day to remember, all our dogs did their best for us and Irene certainly learnt a great deal from the experience. It is always a privilege to represent SGRS but this time we were not in the awards.
The Match was won by URC Southern, who will be hosting the event in 2018.
Jean Baveystock
Team Captain
Inter Club Working Test for Golden Retrievers – 25th June 2017
Results of the Inter-Club Working Test held on 25th June 2017 in Wales hosted by the Golden Retriever Club of Wales
Click for Report here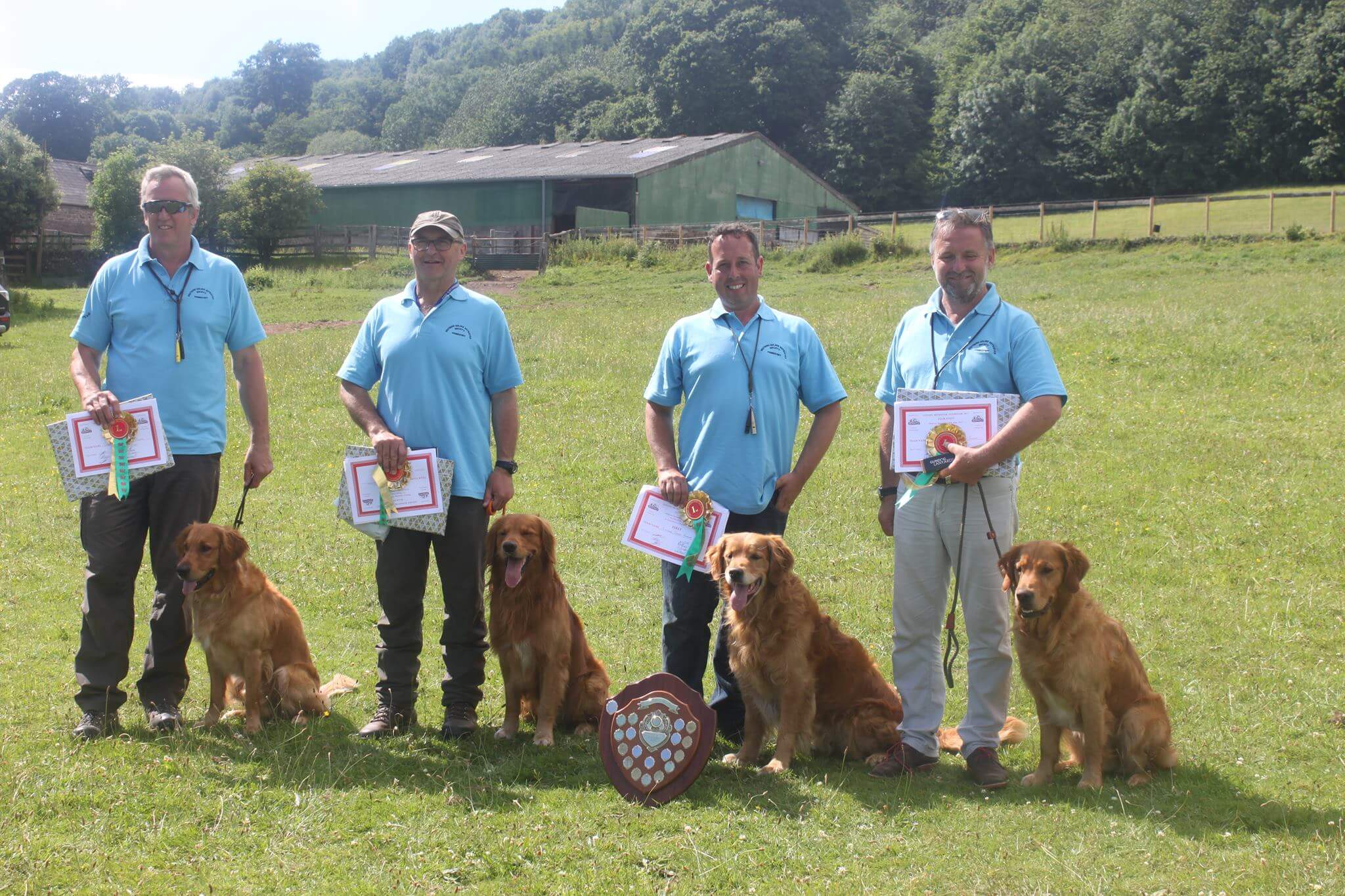 1st SGRS- P Blount & Hanwoodgold Archie; A Ward-Smith & Lochnabo Glorious Golden; A Phillips & Castlemans Soul Man; D Godding & Kaliture Cathmor
2nd GRC – K Jinks & Mistybrook Ochre;F Baird & Treynair Drimmie; R Atkinson & Tarinomagh Anna of Holway; J Crew & Echobrook Dexster
3rd SWGRC – S Winter & Roughbeat Serafina of Philchris; J Evans & Tallygold Mulberry; J Williamson & Tealcreek Miss Understood; S McGroaty & Tealcreek Hamish at Tan
4th GRCS – P Williams & Castlemans Soul Mate; L Roberts & Millgreen Capercaillie; J Deeming & Roughbeat Gabriella of Golden Vine; L Mitchell & Modbury Abeytu of Tallichgold
Highest Novice & Overall Top dog P Williams Castlemans Soul Mate
Highest Open dog K McCarthy's Kaliture Cuinn by