Field Trial Results 2008
Southern Golden Retriever Society Results
FIELD TRIAL 2008 RESULTS
NOVICE STAKE FOR 12 DOGS
FIELD TRIAL 22nd NOVEMBER 2008 ? Results
Knowle Game Farm, Maidstone, Kent.
(by Kind Invitaton of Mr Steve King)
Judges: Mr G Cox, Mr K Smith, Mr R Watson and Mr R Ashdown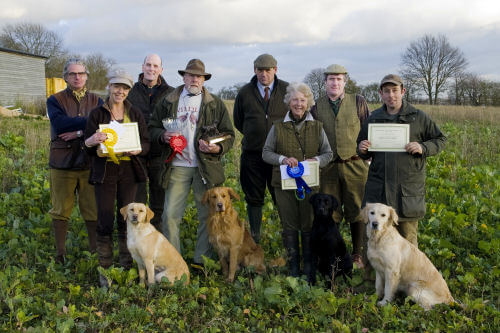 1st Mr Jim Gale's Golden Retriever Earnsfield Kestrelalso collecting the Southern GRS Trophy for the highest placed golden.
2nd Mrs Jane Tydeman?s Labrador Retriever Rooundcopse Bellis
3rd Mrs Julia Bayes-Heeney?s Labrador Retriever Birdsbrook Opel who was also awarded the Sandicliffe Trophy as the Guns Choice.
4th Mr Andy Ward-Smith?s Golden Retriever Lilymay Barleysugar  Pictures of the Field Trial available atwww.countrysideimages.co.uk