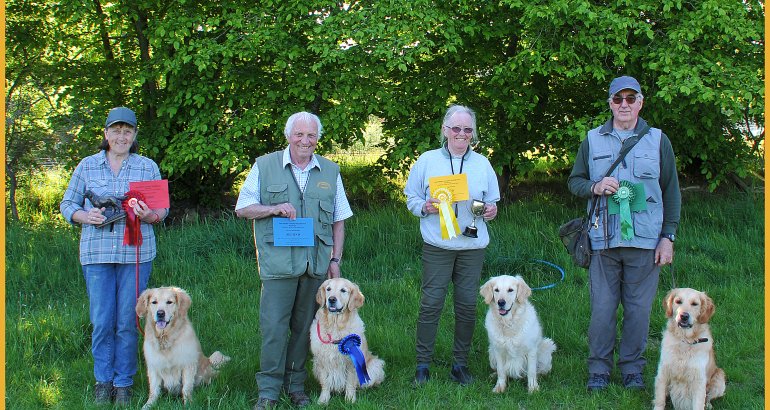 Report on Training day and S/Beginners w/test 8 May 2022
Report on Training day and S/Beginners w/test 8/5/22
The Society held its training day and working test for Special beginners on Sunday 8th May 2022 at Dinglebrook, Hopehouse Lane, Iden Green, Kent, Hosted by Mr James Reavil, who was also one of our trainers and Judges, along with Mrs Ann Gladwin. We had a glorious sunny day. We had 11 students altogether, 1 having withdrawn earlier that morning with an ill dog. We had two groups of students having an hour and a half with each trainer, in the morning. After a short break for lunch we then held a formal working test with 8 of the students competing, 2 taking part not for competition and 1 dog being withdrawn. The tests were based on the training that took place in the morning. Everyone taking place performed well.
The results were as follows
1st. Mrs Hazel Porter with Rosgar Dusky Decadence 80/80
2nd. Mr David Wimsett with Rosgar Coconut Bellini 79/80
3rd. Dr Mary Kelly with Albany Beauty 73/80
4th. Mr Neil Webb with Rosgar Fruitophia 67/80
The remaining4 competitors received certificate of merit for their good efforts
Many thanks go to our host for giving us all a wonderful day out with our dogs.
Ray Gait
W/Test Secretary