WORKING TEST RESULTS 2013
If you would like an emailed copy of a photograph contact David Wimsett on 01732 822954 or email david-wimsett1@hotmail.co.uk
Working Test held at Deerbridge House, Milford Road, Elstead, Surrey GU8 6LA on Sunday 12th May 2013 by kind permission of Mr & Mrs Barnes
Judges: Mr E Venturi and Mrs E Barnes
Novice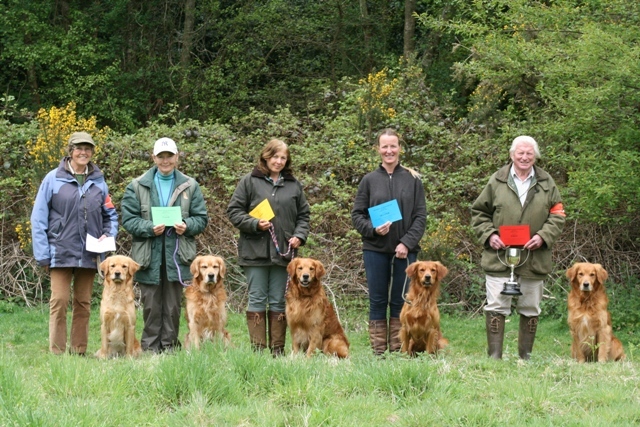 1st. Mr Roy WORT with his dog Alamy Dundar of Auro. 72/80
2nd. Ms. Yvonne FERGUSON with her dog Ardyle Csardas of Eskylane 71/80
3rd. Mrs Irene BIRD with her dog Blaneros Barra 70/80
4th. Mrs Judith LLOYD with her dog Dirnanean's Shining Knight of Bramblyn 68/80
C.O.M.
Mrs Ann GLADWIN with her dog Serene Pursut Lightning Boy. 67/80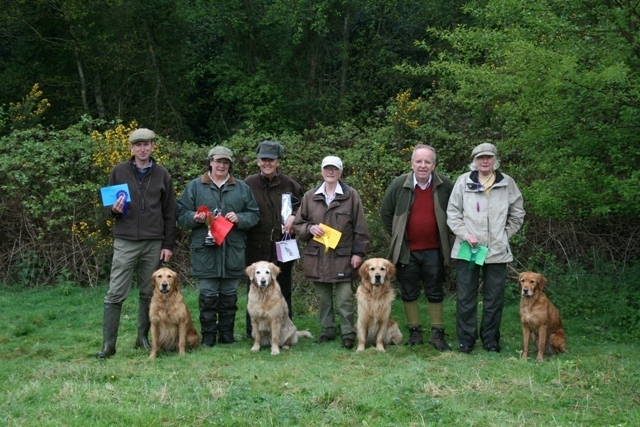 1st. Mrs Toni SANDERS with her bitch Holway Phantom of Tarinomagh. 75/80
2nd. Mr Jon DEBNAM with his bitch Lilleburne Colne Point Peg. 70/80
3rd. Mrs Sue JACKSON with her dog Largymore Maccallan 65/80
4th. Mrs Jean BAVEYSTOCK with her bitch Lakesfarm Martini ad Baveybuilt. 63/80
A Southern Golden Retriever Society Training Day and Special Beginner Working Test was held on Sunday 21st April at Leywood Farm with the kind permission of Rachel and Noel Clark.
The morning training session and the afternoon tests were overseen by Sue Ashley and Barry Harvey. The morning was most instructive and if everyone present could remember a fraction of the excellent advice given we would all be consistent winners!! However, by the afternoon Tests, it was clear that knowing doesn't mean winning !! It was quite obvious that proper training of the dogs and their handlers was really needed to succeed.
The winners at the end of the afternoon tests were, in Special Beginners:-
1st Ms Yvonne Fergerson with Ardyle Csardas of Eskylane
2nd. Mrs Ann Benefield with Coombstock Snow in Summer
3rd. Mrs Karen Menter with Varches Topaz Jewel
4th. Mr David Wimsett with Palharvest Autumnal Gold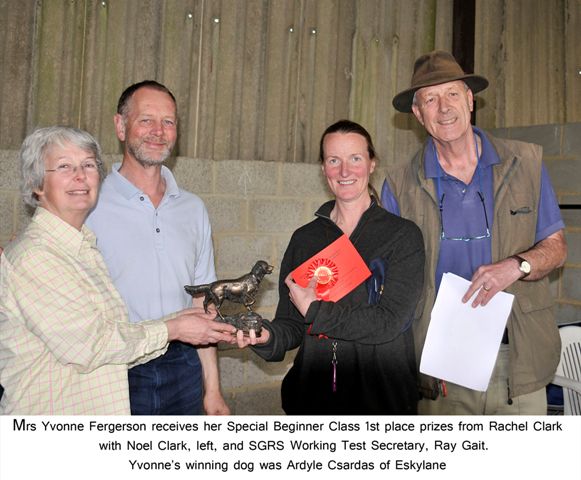 and
ND/NH which was for fun only and NOT COMPETITION
1st. Mrs Judith Lloyd with Dirnaneans Shining Knight of Bramblyn
2nd. Mrs Jenny Rush with Tiltham St Maarten
3rd. Mrs Angela Jones with Sonerila Columnea
4th. Mrs Gillian Clark with Carshill Regan