WORKING TEST RESULTS 2014
The Southern Golden Retriever Society held a Training Day and Special Beginners Working Test at
Ad Astra, Crowhurst, Surrey on Sunday 27th April 2014 by kind Permission of Mr Mike and Mrs
Hazel EVANS.
The Trainers and Judges were Mrs Toni SANDERS and Mrs Ray HARDIE.
Special Beginners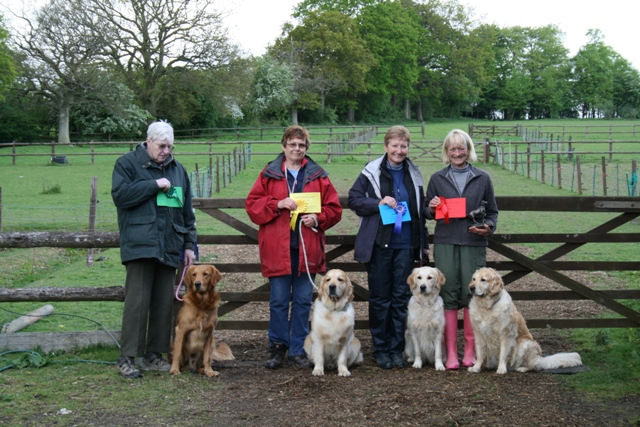 1st Mrs Ann BENEFIELD with her bitch Coombstock Snow in Summer 72/80
2nd Mrs Karen MENTER with her bitch Varches Topaz Jewel  70/80
3rd Mrs Diana ROSE with her dog Azteca Rocket Man 69/80
4th Mrs Gillian CLARK with her dog Carshill Regan  62/80
ND/NH were all not for competition and was run just for the fun of it and practice.
However their runs were scored and the top 4 were
1st Mrs Judith LLOYD with her dog Dirnanean's Shining Knight of Bramblyn   79/80
2nd Mrs Philippa BIBNALL with her bitch Diva Rectorywood Monbazillac  77/80
3rd Miss Sarah PHIPPS with her bitch Maddouse Looks Like a Riot 56/80
4th Mrs Ann BEER with her bitch Tashsheen Martinique  (handled by Mrs Robin Mitchell) 48/80
Working Test on Sunday 20th July 2014 at Puddledock Farm, Chartwell, Kent by kind invitation of Mrs Anne CAIRNES.
Judges: Mrs Jean BAVEYSTOCK and Mr David HUTCHINSON.
Novice Dog/Novice Handler
1st Mr Steve PURCELL with his dog Curlsdown Masons Choice.  100/100
2nd Mrs Philippa BIGNALL with her bitch Rectorywood Monbazillac 88/100
3rd Mrs Gillian CLARK with her dog Carishill Regan 85/100
4thMrs Ann BEER with her bitch Tasheen Martinique JW. Handled by Mrs Robin Mitchell  76/100
Novice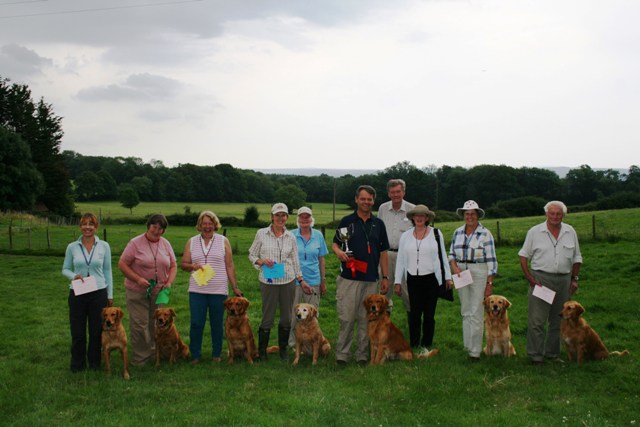 1st Mr Neil FRANKLIN with his dog Wadesmill Almond.   80/80
2nd Mrs Mary QUINCEY with her bitch Wadesmill Apple  77.5/80
3rd Mrs Sarah BOND with her dog Pandapaws Arron Star  77/80
4th Mrs Ann STRACHAN with her bitch Frizelwood Anisha  74/80
The judges awarded three Certificates of Merit to
Mrs Ann GLADWIN with her dog Serene Pursuit Lightning Boy  73/80
Mrs Joanne TOMLINSON with her bitch Chishillhyde Lisa   71/80
Mr Roy WORT with his dog Meteora Golden Fleece of Auro  71/80
Working Test on Sunday 21 September 2014 at Threeways, Chiddingfold, Surrey by kind invitation of Mr Ezio VENTURI.
 Judges: Mr John BARNES  (panel) and Mr RoyWORT.
Special Puppy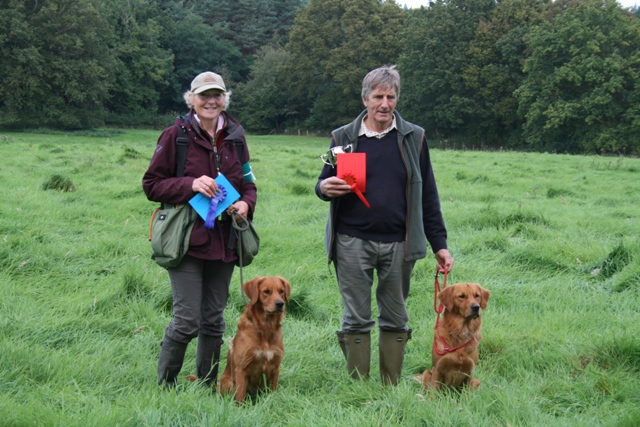 1st. Mr Bill WARNETT with his dog Pandapaws Brigand  68/80
2nd Mrs Tricia ADAMS with her dog Ardyle All Star   62/80
Veteran
1st Mrs Jean Baveystock with her bitch Baveybuilt Tiffontoo  73/80
2nd Mrs Toni SANDERS with her bitch Holway Phantom of Tarinomagh  69/80
3rd Mrs Ann STRACHAN with her bitch Hannans Pure Gold 64/80
Open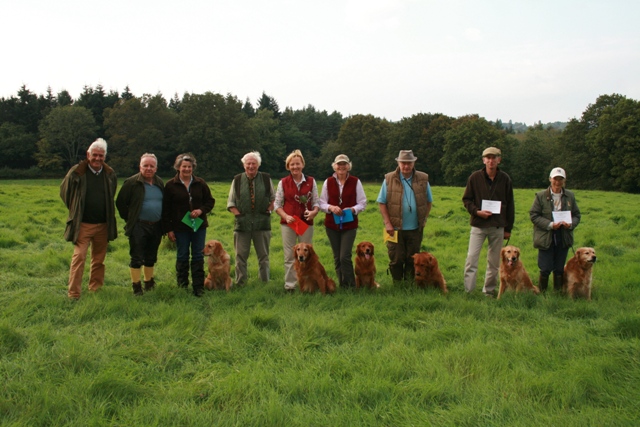 1st Mrs Helen BURNIE with her dog Merryway Maximum 77/80
2nd Mrs Tricia ADAMS with her dog Ardyle Cotillion   77/80
3rd Mr Ray HARDIE with his dog Hannans Spice of Life  76/80
4th Mrs Toni SANDERS with her bitch Holway Pippa of Tarinomagh  75/80
The judges awarded two Certificates of Merit to
Mrs Judith LLOYD with her dog Dirnanean's Shining Knight of Bramblyn 74/80
Mr Jon DEBNAM with his bitch Lillieburne Colne Point Peg  74/80