Working Test Results 2011
Southern Golden Retriever Society Results
WORKING TEST RESULTS 2011
Working Test held at Holywell Estate, Swanmore, Hants SO32 2QE on Sunday 25th September 2011 by kind permission of Earl and Countess Clarendon
Judges: Mrs Elizabeth Pelham and Mr Peter Castleman (panel)
PUPPY
1stAshley's Maluraya Milton Duff
2nd Gladwin's Serene Pursut Lightning Boy
NOVICE DOG/NOVICE HANDLER
1st Lever's Harsett Flora
2nd Lloyd's Dirnanean's Shining Knight of Bramblyn
3rd Jones' Sonerila Calanthea
4th Furbank's Faifield Firefanfair
VETERAN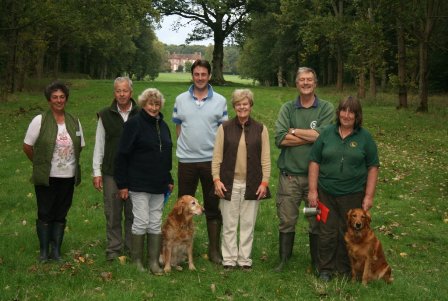 1st Strachan's Hannans Pure Gold.
2nd Wort's Catcombe Calceolaria of Auro.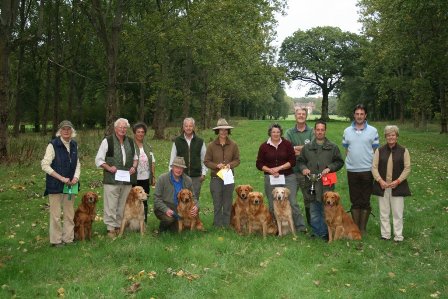 1st Ward-Smith's Lochnabo Glorious Golden.
2nd Hardie's Hannans Mace Spice Of Life
3rd Crew's Calim Peace
4th Baveystock's Baveybuilt Tiffontoo
C.O.M's went to
Sanders' Holway Phantom of Tarinomach
Crew's Echobrook Dexter
Wort's Auro Rimu  
Working Test held at Parklands, Odiham Road, Ewshot, Farnham, Surrey, GU10 5AF on Sunday 10th July 2011 by kind permission of Mrs Suzette WATTS.
Judges: Mrs C Carter and Mr A Ward-Smith
SPECIAL BEGINNERS (7, 1 absent)
1st Lloyds Dirnanean's Shingknight of Bramblynilia At Dirnanean)
2nd Jackson's Xanthos Foxtrot
SPECIAL PUPPY (8, 2 absent)
1st Taylor's Pandreft Alfreido J.W.
2nd Quincey's Wadesmill Apple
3rd Gladwin's Serene Pursuit Lightning Boy
4th Gayler's Carolkae Mind Over Matter
NOVICE 15 (1 absent)
1st Ridge'sa Cecily of Hertfordshire
2nd Gladwin's Varches Together Forever
3rd Wort's Libris Mr Pickwich of Auro
4th Debnam's Lilleburne Colne Point Peg
COM Wort's Alamy Dunbar of Auro
COM Eley's Pepsanner Vesta