Working Test Results 2018
Southern Golden Retriever Society Results
Report for Working Test 29/7/18 at Chartwell Below are further results for April and May 2018 Working Tests
The Society held its final working test of the year on Sunday 29th July 2018 at Puddledock Farm, Chartwell, Westerham, Kent with the kind permission of Mrs Ann Cairns and her manager Trevor Tidy.
The weather turned out to be the wettest of the summer; however that was more of a blessing than a pain as we had been inundated with the hottest summer for a long long time. Our Judges on the day were Mrs Pat WRIGHT and Mr Tony CASSERLY (who was our panel judge).
We held three classes. Special Puppy (3 entries) Veteran (10 entries) in the morning and Open (17 entries) in the afternoon.
The results were as follows:-
Special Puppy.
No awards were awarded in this class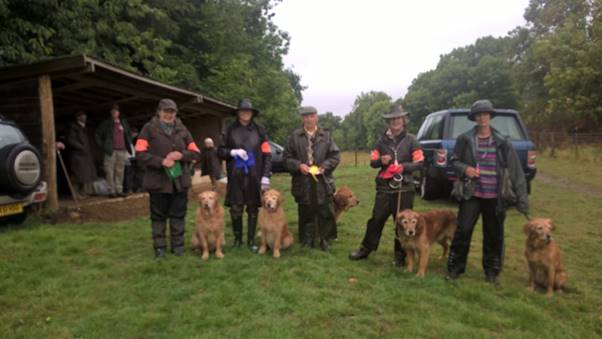 Veteran
1st.  Mrs Jacqui CREW with her dog Echobrook Dexster                                                   74/80
2nd. Mrs Ann GLADWIN with her dog Serene Pursuit Lightning Boy (after run off)       71/80              
3rd. Mr Norman STOUT with his dog Hanans Ready to go of Valjan   (after run off)       71/80
4th. Mrs Toni SANDERS with her bitch Holway Pippa of Tarinomagh.                            68/80
C.O.M. was awarded to:-
Mrs Barbara HAYDEN with her bitch Sherzando Applause                                              65/80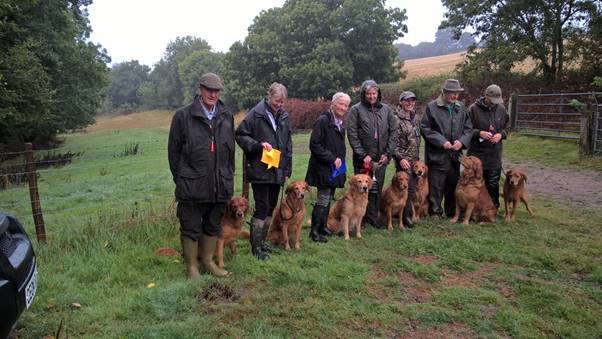 Open         
1st. Mrs Sue JORDON with her bitch Tulleysedge My Belle Nell                                     76/80
2nd. Mrs Sue JACKSON with her dog Pandapaws Angus                                                    74/80
3rd. Mrs Chris GREGORY with her bitch Thriftwood Allegra                                           72/80
4th. Mrs Chrissie THOMAS with her dog Roughbeat Melchoir (after run off)                 71/80
C.O.M.'s were awarded to the following after run off for 4th place:-
Mrs Ray HARDIE with his dog Pandapaws Andy Ray                                                      71/80
Mr Bill WARNETT with his dog Pandapaws Brigand                                                       71/80
Mrs Patricia KIRCHSTIEN-ADAMS with her dog Ardyle Cotillion                                71/80
Mrs Jacqui CREW with her dog Hanans Kertis                                                                  71/80
SGRS – WORKING TEST REPORT FOR NOVICE AND NOVICE DOG/NOVICE HANDLER
SUNDAY 13TH MAY 2018
The Southern Area of the Flatcoated Retriever Society embarked on a new venture in conjunction with the Southern Golden Retriever Society and ran Novice and Novice Dog Novice Handler Working Tests for both breeds.  The Flatcoated Society hosted the day at Penshurst in Kent, by kind permission of Lord De L'Isle.
Many thanks to Dick Pettett for his organisation, the judges Jim Gale and Maddie Burr, the stewards and to the dummy throwers Andy Snow and David Hutchison known to both breeds who all kindly gave up their time for all to have an enjoyable day running their dogs in the nice weather.
There was a good entry and almost an even number of flatcoats and goldens
Novice Dog Novice Handler Results
Due to a number of handlers who had to pull out on the day it was not possible to make any awards.
Philip Goodman's Boresile Arabella Allen for Larksburn was presented with a dummy for the highest scorer but they were not consistent enough to be placed.
Novice Results
1st Steven Bancroft with Wadesmill Castlebury (GR)
2nd Carol Carter with Azteca Final Alliance (GR)
3rd Suzi Price with Blacklake Oberon fo Ruddlebury (FCR)
4th Derek Bull with Keepersway Alana (FCR)
COM Sue Jackson with Pandapaws Angus (GR)
Our Society plans to host the event in 2019
Results of Special Beginners Working Test 29/4/18The society held a working test for SPECIAL BEGINNERS on Sunday 29th April 2018 at , Aldon Cottages, Offham Kent by kind invitation of Mr R and Mrs S Ashley. The judges were Mr James Reavil and Mrs Ann Gladwin.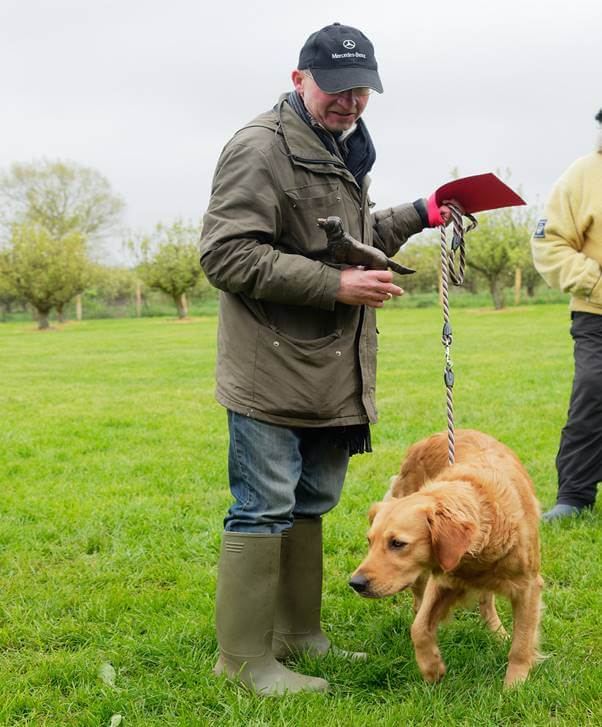 1st.  Mr. Jim GRZENKOWICZ. With his Bitch, Hannans Golden Angel                          75/80
2nd.. Mr David WIMSETT with his Bitch, Rosgar Coconut Bellini                                   73/80
3rd. Mrs Jean TUCKFIELD with her Bitch, Belmarnie Meisje                                       68.5/80
4th. Mr Robert FOWLER with his Bitch, Leititia Aperta by Ferrari                                  59/80
Certificate of Merit were awarded to:-
Mrs Susan FARMER with her Bitch, Largymore Lalique                                                 53/80
Mr Dave TOMS with his Dog Julolian Bobby                                                                  47/80
This event was a great success with 21 entries on the day. The trainers/Judges were again fabulous and I heard many a laugh during the day despite the weather being extremely cold with a biting wind.
Ray Gait