Field Trial 2018 Results
January & November 2018
Novice AV Trial  Retrievers 14 Dog Stake
Held under Kennel Club FT Regulations and SGRS Rules
Saturday 24th November 2018
Randolphs Farm Shoot, Hurstpierpoint, West Sussex
By Kind Permission of Randolphs Shoot Syndicate.
Judges
Mrs Gilly Nickols, 2527(A), Mrs Kim Jinks 3430 (B)
Mr Chris Simmons (NP), Mr Benjamin Starns (NP)
Field Trial Photos Link:-  https://sbancrof8.wixsite.com/southern-grc-av-ft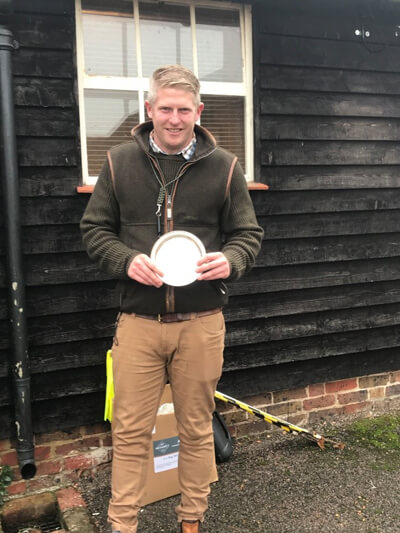 Gary Souster voted Guns Choice.
The trial had a good level of entries and was very well attended on the day.  We ran a full 14 dog card.
The day was very wet in the morning but it didn't dampen the spirits.  The Guns stood and watched and I kept them in homemade Sloe and Raspberry Gin and Sausage rolls.
The duck drive proved difficult for a few dogs and we were down to just three competitors by the end of drive one.  We moved on to the Main Wood Drive with just three dogs. The dogs lined out and the guns shot very well and produced plenty of birds.  One dog ran in so he was out. Second dog picked up the wrong bird so out.
This left Gary Souster with his Golden Retriever, Roughbeat Estelle,  she did a nice Retrieve but the judges felt his dog wasn't ready to move up to open so no awards given.  Gary Souster was however voted Guns Choice.
Philip Bount, Field Trial Secretary
AV Novice Stake for 16 Dogs
19th January 2018
Held at Owley Shoot Tenterden
(By kind permission of George Digweed MBE)
Judges: Mrs Barbara Kuen; Mr Tom Lowe; Mr Robert Worrell and Mr Chris Simmons
1st Mrs Vanessa Gilham with her Labrador Bitch Fletchingly AnnRaidh
2nd Mrs Marianne Copp with her Labrador Dog Pointhill Peregrine
Mrs Kim Jinks with her Golden Retriever Bitch Mistybrook Ochre – Winner of the SGRS Perpetual Trophy for the highest placed Golden Retriever