Field Trial Results 2009
Southern Golden Retriever Society Results
FIELD TRIAL 2009 RESULTS
NOVICE STAKE FOR 14 DOGS
FIELD TRIAL 14th NOVEMBER 2009 ? Results
Knowle Game Farm, Ulcombe, Nr Maidstone, Kent.
(by Kind Invitaton of Mr Steve King)
Judges: Mrs G Hillier, Mr R Wade, Mrs G Butcher and Mr M Bagg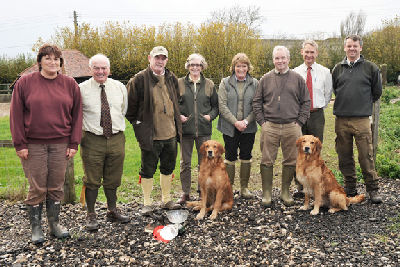 1st Mr Trevor Souster's Golden Retriever Souter Zeusalso collecting the Southern GRS Trophy for the highest placed Golden Retriever and the Sandicliffe Trophy as the Guns Choice.
C.O.M. Mr Dave Barnes' Golden Retriever Souter Romulus At Millgreen
Pictures of the Field Trial available atwww.countrysideimages.co.uk 
This website uses cookies to improve your experience. We'll assume you're ok with this, but you can opt-out if you wish. Cookie settingsACCEPT
Privacy Overview
This website uses cookies to improve your experience while you navigate through the website. Out of these cookies, the cookies that are categorized as necessary are stored on your browser as they are essential for the working of basic functionalities of the website. We also use third-party cookies that help us analyze and understand how you use this website. These cookies will be stored in your browser only with your consent. You also have the option to opt-out of these cookies. But opting out of some of these cookies may have an effect on your browsing experience.
This website uses cookies to improve your experience while you navigate through the website. Out of these cookies, the cookies that are categorized as necessary are stored on your browser as they are essential for the working of basic functionalities of the website. We also use third-party cookies that help us analyze and understand how you use this website. These cookies will be stored in your browser only with your consent. You also have the option to opt-out of these cookies. But opting out of some of these cookies may have an effect on your browsing experience.
Necessary cookies are absolutely essential for the website to function properly. This category only includes cookies that ensures basic functionalities and security features of the website. These cookies do not store any personal information.
Any cookies that may not be particularly necessary for the website to function and is used specifically to collect user personal data via analytics, ads, other embedded contents are termed as non-necessary cookies. It is mandatory to procure user consent prior to running these cookies on your website.